All of the JVC Northwest are excited to welcome the '23-24 Jesuit Volunteer/AmeriCorps member cohort into the community at Orientation this August! In anticipation of the new service year, we thought now would be a good time to introduce our team of Program Coordinators.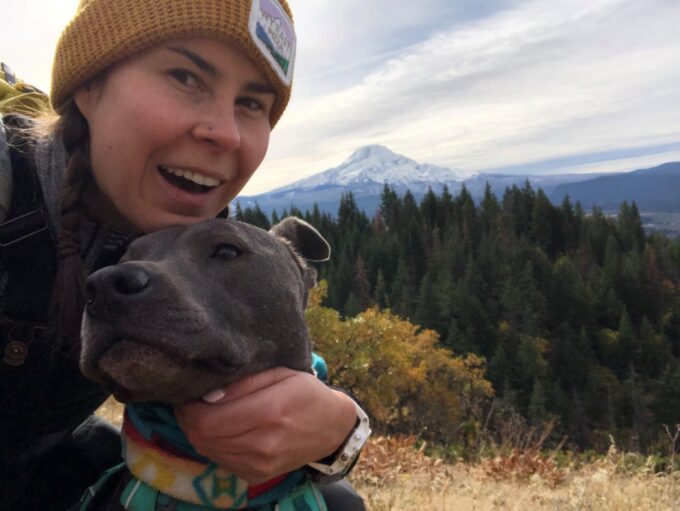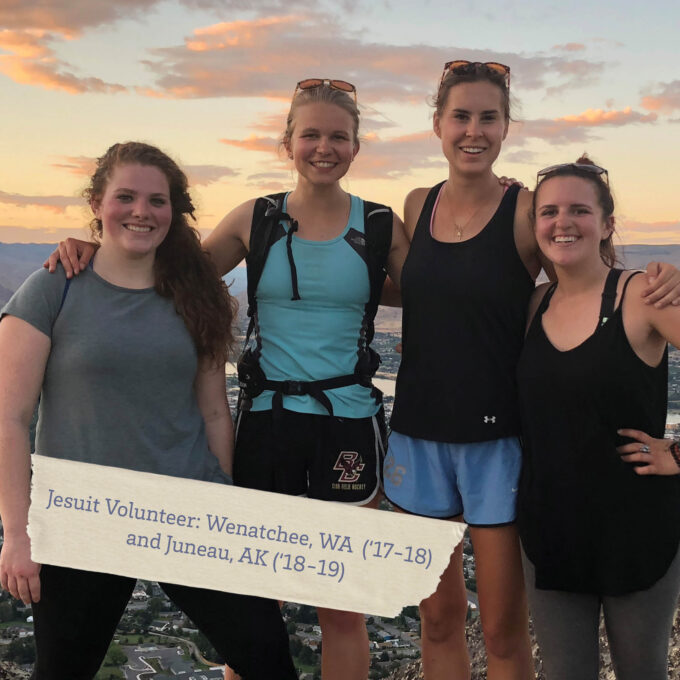 Anna Jurken (she/her) supports JV communities in Portland (Mac and Morris house) and Bend, Oregon.
Can you tell us about your own service experience?
I spent two years as a JV with JVC Northwest. I spent my first year serving with the Northwest Justice Project (NJP) in Wenatchee, WA where I served alongside H-2A and migrant farmworkers. My time with NJP was invaluable and allowed me to think about sustainability and ecological justice from a larger perspective. After serving at NJP, I served an additional year in Juneau, AK at the Zach Gordon Youth Center where my passion for youth services grew! My time at the Zach was integral to discerning what I hope to do long-term.
What's your favorite part about Orientation?
My favorite part of Orientation is the morning music! The songs make me nostalgic for my years as a JV at O and remind me of my gratitude for this program and the many people and places I've been connected with through my time with JVC Northwest.
What's your favorite meal to cook?
My favorite meal to cook (which isn't really a meal…) is homemade cinnamon rolls! I generally love cooking for others though and enjoy trying new recipes.
What's a fun fact about you?
I've run around two volcanoes… Wy'East (Mt. Hood) and Loowit (Mt. St. Helens)! I hope to add Tahoma (Mt. Rainier) to the list in the near future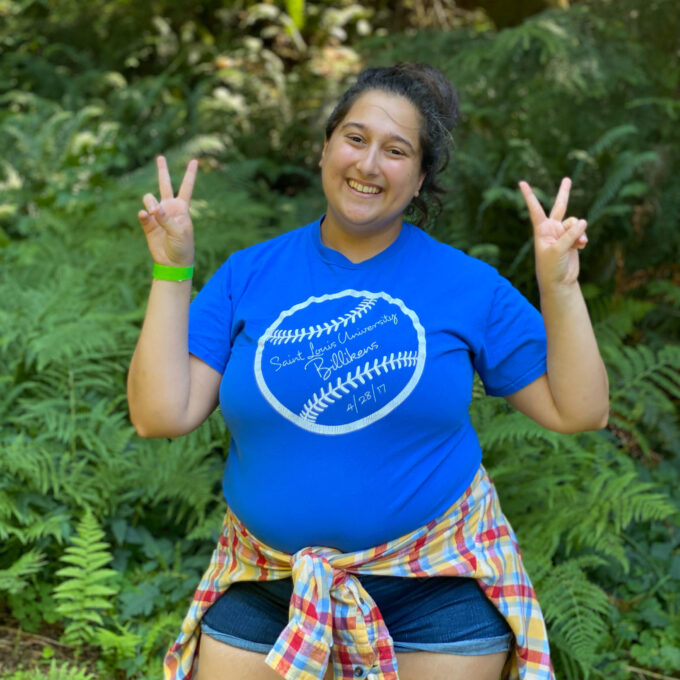 Zayna Abusada (she/they) supports JV Communities of the Big Sky Region: Ashland and Missoula (MT), Boise (ID), and Spokane (WA).
What do you like about working at JVC Northwest?  
My favorite thing about working at JVC Northwest is the relationships I get to build!  Whether I only know someone in their JV year or for a lifetime, I really cherish the connections that I make through working here- I've met some incredible and inspiring people while part of this organization, and I'm so excited to continue to do so this program year! Not only that, I get to make even deeper connections to people in Big Sky and Alaska, the home of my two JV years, which is so important to me.  
Orientation is an exciting opportunity to begin the year as one big group, though big transitions can be overwhelming. What advice do you have to maintain self-care during this week?  
Take time to REST! Whether this means actually napping, taking time away from being social, or filling your cup with energy and life-giving activities for yourself, It's really important that you keep not only your physical energy up, but also your emotional, mental, and spiritual energy to a safe and healthy level. Orientation is a joyous time, but it can also be really overwhelming, and it's good to have those little things like yoga, reading, listening to music, and resting to fall back on if things get too overwhelming for the body, the head, and the heart.  
Have you read any good books lately?  
Yes! I'm currently working through a Chinese high fantasy drama series called Mo Dao Zu Shi, by author Mo Xiong Tong Xiu. It's a story of magical cultivation, sociopolitical drama, complex characters, and love at the heart.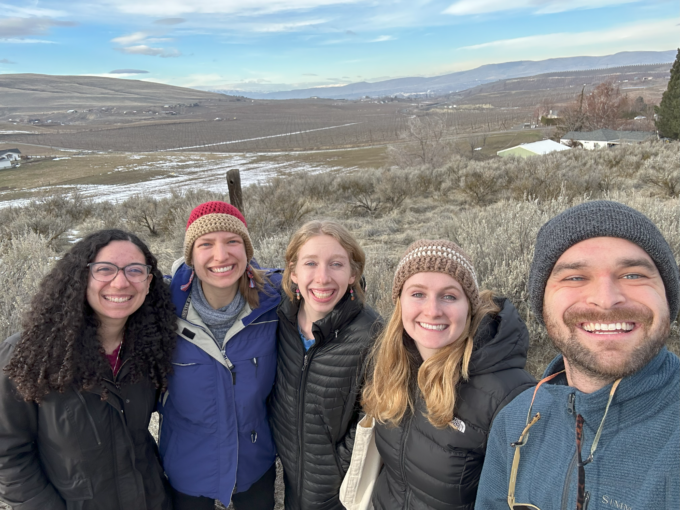 Ben Rumbaugh (he/him) supports Washington JV communities in Seattle (Mercy and Cherry Abbey houses), Tacoma, and Yakima.
Can you tell us about your own service experience?   
I served with the St. Labre Catholic Academy in Ashland, MT as one of the dorm JVs. I served as a listening presence for teenagers who are going through complicated changes and growth. I also helped with homework and organized fun activities for the students. 
What is your favorite sunny day activity? 

My favorite sunny day activity is riding my bike or gardening. 
Have you read any good books lately? 

I'm currently reading "The Road" by Cormac McCarthy. 
Do you have any pets? 
Yes! Two Italian Greyhounds named Manchego and Gouda.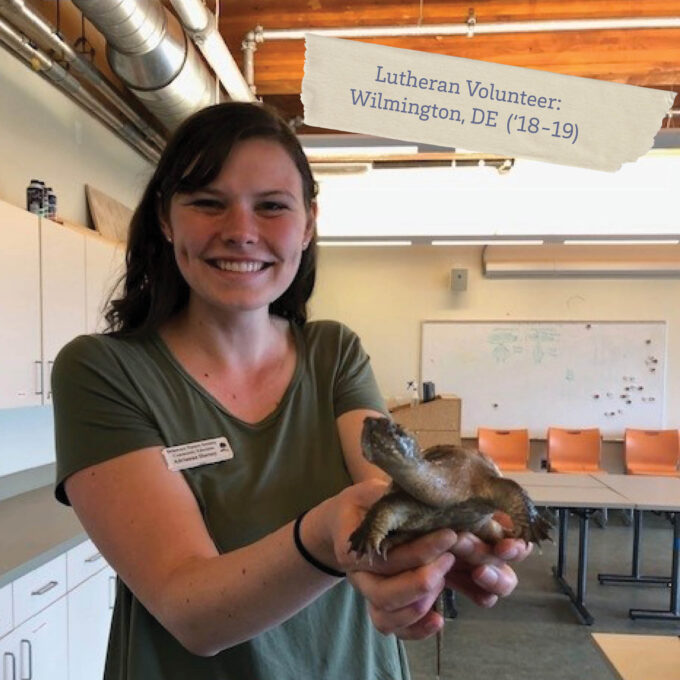 Senior Program Coordinator Adrianna Horsey (she/her) supports Alaska JV communities in Anchorage, Bethel, Juneau, and Sitka.
Can you tell us about your own service experience?   
I served as a Lutheran Volunteer in Wilmington, DE in 2018-19 at the Delaware Nature Society as their community educator. I taught environmental science classes and camps for youth and led community outreach for adult education. I worked with a variety of animals through my service site, including this young snapping turtle!   
How did your service year change you? 
I was changed by my service year largely through the relationships I built with my community and neighborhood. Living with my fellow volunteers and neighbors broadened my worldview and challenged my pre-existing beliefs and ways of life in both big and small ways. My service experience helped me to create an intentional practice of introspection and curiosity that is still a part of my life today.  
What's your favorite meal to cook?
I love cooking any and all types of soups, and a favorite of mine is African Peanut Soup, which I learned how to make when I lived in an intentional community during a summer fellowship in Leavenworth, WA. I hope to cook it for some of the Alaska JV communities this year!  
What advice do you have to maintain self-care during Orientation week?
Orientation is an exciting kick-off to the JV program year. In order to care for yourself during this big transition in your life, I recommend taking moments alone for yourself during down time (including you extroverts!) and prioritizing sleep each night. I look forward to meeting you all in August!